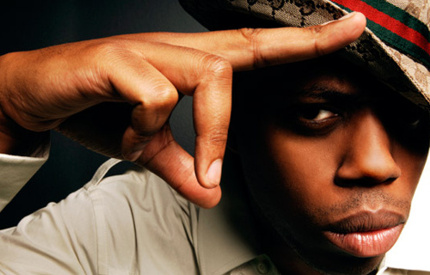 Jason D. Harrow (born May 12, 1976), better known by his stage name Kardinal Offishall, is a Jamaican Canadian rapper and record producer. He is often credited as Canada's "hip-hop ambassador", and is best known for his distinctive reggae and dancehall-influenced style of hip-hop.
Harrow was born in Scarborough, Ontario, in Toronto's east end, and raised by Jamaican immigrant parents. From the ages of 2 to 13, he lived in the city's Flemingdon Park neighbourhood. He moved back to Scarborough for two years, before finally settling in Oakwood–Vaughan, in the city's west end. While in high school, he would throw parties at the Alexandra Park Community Centre.
He started rapping at the age of eight and was winning competitions by the time he was 12. Also at the age of 12, he performed live and on stage for the first time, with Nelson Mandela in attendance during Mandela's first visit to Toronto. By 1993, he decided to change his alias "KoolAid", and went by the moniker "Kardinal Offishall" after being inspired by the great 17th century French politician Cardinal Richelieu.
Kardinal was signed to a publishing deal with Warner/Chappell Music Canada at the age of 20. In 1996, he released his first single "Naughty Dread", which was featured on the Rap Essentials Volume One compilation and earned him a Juno Award nomination for Best Rap Recording. In 1997, Kardinal released his debut album Eye & I on Capitol Hill Music. The only single from the album, "On wit da Show", had considerable video play on MuchMusic. In 1998, he was featured on the Juno-winning single "Northern Touch" with the Rascalz, Choclair, Checkmate and Thrust.
In 2000, Kardinal signed with MCA Records. He released the album Quest for Fire: Firestarter, Vol. 1 in 2001, which spawned the hits "BaKardi Slang" and "Ol' Time Killin'". After MCA folded in 2003, Kardinal's highly anticipated follow up album Firestarter Vol. 2: The F-Word Theory was shelved along with the single/video for "Belly Dancer" featuring Pharrell, and Kardinal eventually found himself without a label. Had the album been released, there would have been production from Timbaland and The Neptunes, among others. He released an independent mixtape titled Kill Bloodclott Bill in 2004 with his production company, Black Jays, and he also released his second major-label album titled Fire and Glory on November 15, 2005, through Virgin Records in Canada only. Hits on Fire and Glory include "Everyday (Rudebwoy)" and "Heads Up".
In 2007, Akon signed Kardinal Offishall to his label Konvict Muzik and Kon Live Distribution. In 2008, he released the album Not 4 Sale. It spawned the hit single "Dangerous", which peaked at #5 on the Billboard Hot 100.
In 2010, he was included in the Young Artists for Haiti's version of "Wavin' Flag" in an effort to raise money for disaster relief. He starred along with many Canadian stars. Also in 2010, he was featured in Raghav's single "So Much".