Isis Metoo is Crowned Miss West Indian Canadian 2013 of Trinidadian Heritage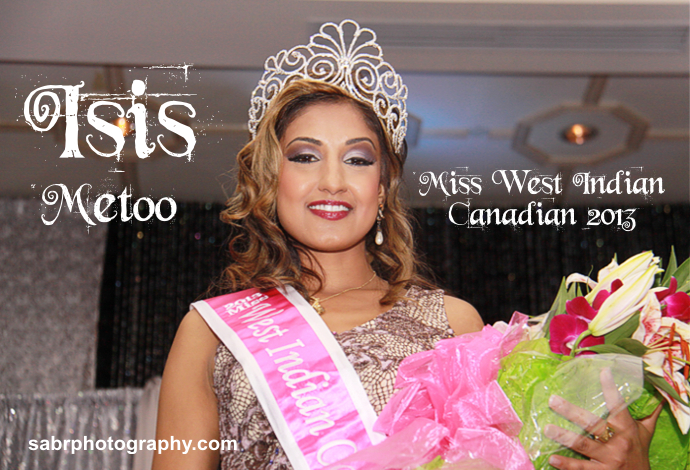 CONGRATS to Isis Metoo who floored the judges with her impressive vocal performance as her talent and sang Adele's Skyfall, stunning evening gown, and brilliant answer for the Q&A. All the top 12 Miss West Indian Canadian Contestants 2013 were outstanding and are great representations of what it is to be a talented, intelligent, and cultured West Indian woman. Congrats as well to the 1st Runner-up & Miss Popularity Nadia Rooney, 2nd Runner-up Vanessa Narsingh, 3rd Runner-up Stephanie Rajkumar, 4th Runner-up Sabrina Podai, and 5th Runner-up Nicolette Seecharan. It was held on Sunday, Oct. 20, 2013 at Red Rose Convention Centre.
The day was a great for everyone including the special Little Miss West Indian Canadians who were all inspired by the contestants and looked adorable themselves in their dresses, sashes and tiaras.  The audience showed their appreciation with lots of cheers, signs, t-shirts, and horns.  The stage entertainment kept the pageant moving smoothly with the singing of the Canadian National Anthem by Ms. Paige and was beautifully sung. Carnival Spice and everything nice brought the ultimate Caribbean carnival experience with their island vibes. Comedian Jean Paul made the audience literally want to roll on the floor laughing. Wi Can Dance Competition 2013 winners from the duo and group category showed why they won the competition.
Jaw dropping stage decor by S&A Party Decor and Rental. Perfect sound system execution by DJ Kiren and exquisite stage lighting by LASER.
The bridal exhibitor's displays were stunning and the BEST BOOTH AWARD went to Divine Beauty by Sathi.  Wi Canadian models were mesmerizing to watch in both Western and South Asian bridal wear by Sara Lee Fashions and Ann & Gopal's Om Deepam. Jewelize U showcased their best jewelry pieces on the models and lit up the stage and stunning makeup by SMB and hair by Travis. The host with the most, Reneil Kistodial stole the show with his natural talent of commanding the audience and keeping them on their toes.
Special gratitude to our main sponsor Ricky Nandlal, Realty Executives Plus Ltd. Brokerage, Sales Representative.
IF YOU MISSED THIS EVENT THEN YOU MISSED SEEING THE FUTURE OF WHERE THE WEST INDIAN COMMUNITY IS HEADED.  DON'T MISS IT NEXT YEAR!
Register for the next Miss West Indian Canadian Pageant.