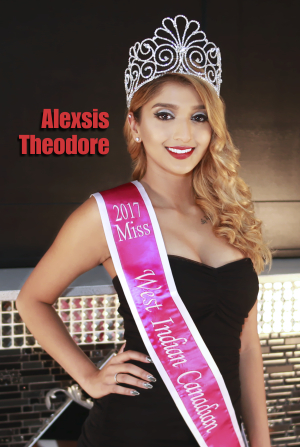 Q&A with the 2017 Miss West Indian Canadian, born and raised in Markham, Ontario to Guyanese parents on August 27th, 1997. She's the youngest in her family with 1 brother. She currently resides in Brampton, Ontario. Alexsis is in her 4th year of undergraduate studies at York University and will obtain a Bachelor of Arts Honours in English Studies degree.
After Winning the Miss West Indian Canadian Pageant last year, what kind of impact did it have on your everyday life?
Winning the Miss West Indian Canadian Pageant last year has completely changed my life – for the better that is! I have been able to diversify myself with the West Indian community in the GTA, gain confidence through the many public speaking opportunities I have gotten as well as grow and learn more about myself.
Can you tell me about some of your ambitions in life? Has winning the pageant helped you in anyway with your ambitions?
One of my main ambitions in life has been to become an educator and impact the lives of children through education. The pageant has definitely helped me pursue my career in teaching as it has given me valuable experiences and opportunities to work with children (for example, the Little Misses).
In your opinion, what is the importance of a pageant queen?
Being a pageant queen is important as you are given a voice and should use this and be a role model and positive icon in your community. A pageant queen should use their platform to shed light on issues dear to their heart and make a positive difference in their community, whether this is getting involved in charitable organizations or supporting local business, clubs, etc.
What kind of opportunities have you gained from your pageant experience?
I have gained several opportunities including: travelling to Vegas, attending festivals including the Durham Caribbean Festival and Carabram, being an honourable guest at various charitable galas, clubs and dinners, modelling for Freedom Carnival's costume launch for Caribana 2018, attending fundraisers for local businesses and charities… the list goes on!
Describe your memory of your time spent with the other contestants, rehearsals, and pageant:
Every rehearsal was very memorable! Most of our time was spent laughing, telling stories and just bonding. I'll never forget the hours we would all stay back and just chat about life because those talks helped build our pageant sisterhood and made the whole pageant process and experience amazing!
Do you have any inspirational quotes or sayings that are sincere to you?
One quote I live by is, "Don't let the fear of striking out keep you from playing the game" from Babe Ruth.
What advice would you give to future contestants in the Miss West Indian Canadian Pageant?
Advice I would give to the 2018 contestants would be to enjoy the process! Don't let nerves and fear overwhelm you. Instead, make friendships, practice, and have fun when you hit that stage! ALSO, make sure you eat and drink on the day of because by the end of the night you'll regret it if you don't!