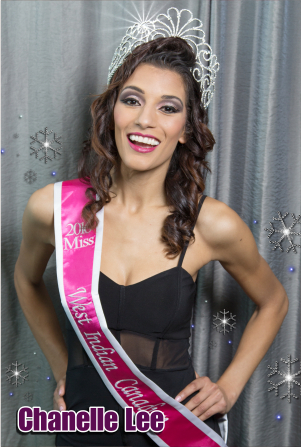 Q&A with the 2016 Miss West Indian Canadian of Bajan heritage, born and raised in Burlington on September 23, 1990. She's an only child and has a degree in Tourism and Hospitality Management. Chanelle recently entered the Miss Universe Canada Pageant 2017 and placed Top 10, won Best Costume, and Miss Congeniality among 65 delegates.
After Winning the Miss West Indian Canadian Pageant last year, what kind of impact did it have on your everyday life?
It did not feel real! I did not realize the power this title gave to my everyday life until I attended the first event and spoke in front of an audience. Seeing a community that I am apart of looking up to me felt very powerful. I did not realize the influence I had on so many people. Once I realized that my life was no longer the same, Julie Rambali and the WiCanadian organization gave me the opportunity to positively change my life and come to realize I have a voice and so much to offer. So for that I want to say thank you!
Can you tell me about some of your ambitions in life? Has winning the pageant helped you in anyway with your ambitions?
Going into the pageant I already completed my degree in tourism and hospitality management. I was also worked full time as an actress and model however, I was not necessarily feeling so fulfilled. After being crowned, I had a lot of self discovery and actually started a course to become a health and lifestyle coach because I realized how much I enjoyed impacting and helping others. Another goal I always thought about was competing in Miss Canada Universe, a goal I never thought would be possible. The confidence I gained and the support from the Wi Canadian organization allowed me to actually apply. After months of waiting, I was selected as a national delegate for 2017.
In your opinion, what is the importance of a pageant queen?
In our society people still frown on the idea of a pageant queen, and often assume we are just a pretty face. That is so far from the truth! A pageant queen is a role model, leader and is an individual who is not scared to challenge themselves. A pageant queen stands for not only themself or the organization, but for a community. I was so proud to represent the West Indian community as a proud Bajan woman, being a role model, and being an advocate for change and to encourage others to reach for the stars.
What kind of opportunities have you gained from your pageant experience?
I gained so many opportunities from the Wi Canadian pageant! As a model and actress, I was exposed to a multitude of industry professionals. As mentioned before the opportunity to register and compete in another amazing pageant with Miss Universe Canada. Above all being connected with so many like minded individuals who care so much about giving back and the importance of humanitarian work. I have gained so many new people in my life who are there to support me in the causes close to my heart and I have been there for them in supporting their causes as well.
Describe your memory of your time spent with the other contestants, rehearsals, and pageant:
The time spent prior to the pageant was the best memories I had of the entire experience! It was the time I was able to get to know the incredible, successful and intelligent women that were all there for the same reason as myself. The friendships that were created was the best memory!!! The day of the pageant was honestly a blur, it went by so fast. I wish I could experience it all again! Take on every moment 🙂
Do you have any inspirational quotes or sayings that are sincere to you?
Yesterday is history, tomorrow is a mystery, today is a gift that's why they call it the present! Make the most of the days you are given, live every day to the fullest because we are only guaranteed right now 🙂
What advice would you give to future contestants in the Miss West Indian Canadian Pageant?
Make the most of the year , stay true to you! Take the opportunity and amazing platform the Wi Canadian organization provides to have your voice heard and make a positive impact. Enjoy every moment!