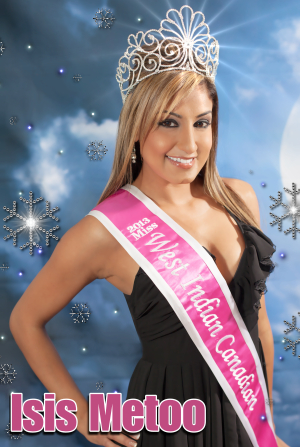 Q&A with the 2013 Miss West Indian Canadian, born and raised in Trinidad on October 15, 1983. She's the eldest in her family with 1 sister, and loving parents. She currently resides in Oakville, Ontario.
After Winning the Miss West Indian Canadian Pageant last year, what kind of impact did it have on your everyday life?
Winning the Miss West Indian Canadian Pageant has broaden my horizons on many levels not only in the West Indian community here in Toronto but internationally as well. The impact has been extensive and it has allowed me to see the reflection of myself throughout the community by hearing and seeing positive changes.
Can you tell me about some of your ambitions in life? Has winning the pageant helped you in anyway with your ambitions?
Some of my ambitions, include helping those in need throughout the pageant experience. I have been able to meet so many amazing people and been able to be an ambassador of good will.
In your opinion, what is the importance of a pageant queen?
The importance of a pageant queen is being the voice for the unheard not only are you to see the positive but it should inspire you to see and change the negative. When winning such a prestigious title, resources are handed to you. It is so crucial to know who you are as an individual and utilize all that has been bestowed upon you.
What kind of opportunities have you gained from your pageant experience?
I was interviewed on radio stations, multiple newspapers and television networks. I was given the opportunity to perform at Dundas Square, travelled to the beautiful Island of Barbados to represent the Miss West Indian Canadian Pageant and interact with locals. Being born and raised in Trinidad, I was able to go back to my home and represent Canadian diversity merged with traditional West Indian values.
Describe your memory of your time spent with the other contestants, rehearsals, and pageant.
Wow, what can I say to sum this up in one sentence. From laughing constantly, looking forward to every rehearsal, feeling as though time was well spent with some incredible women I got to share the experience with and still feeling attached; it wasn't just an experience. It was an unforgettable change that I would not trade for anything. If someone were to ask me if I were to do it all over again, I would say yes, 10x's over!
Do you have any inspirational quotes or sayings that are sincere to you?
"The Greatness of a man is not in how much wealth he acquires but in his integrity and his ability to affect those around him positively " by Bob Marely.
What advice would you give to future contestants in the Miss West Indian Canadian Pageant?
I have to say to the new Queen of 2014 the only advice I have is to go into this wholeheartedly really wanting to be in it for the experience and embrace those around you. Show grace and be humble.