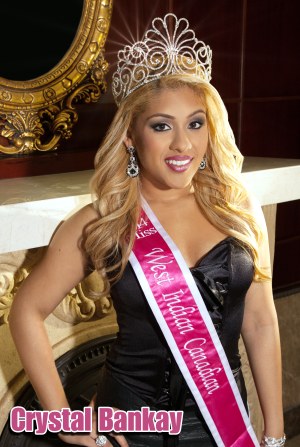 Q&A with the 2014 Miss West Indian Canadian, born and raised in Toronto to Guyanese parents on January 11, 1992. She's the eldest in her family with 1 sister. She currently resides in Toronto, Ontario.
After Winning the Miss West Indian Canadian Pageant last year, what kind of impact did it have on your everyday life?
Winning the Miss West Indian Canadian Pageant truly changed my life. Not only did it grant me many opportunities to expand my knowledge and invest in my future, but it also gave me the chance to be a positive light in my community.
Can you tell me about some of your ambitions in life? Has winning the pageant helped you in anyway with your ambitions?
One of my greatest ambitions in life is to be an advocate for good mental health. I am particularly interested in being a supportive resource for the mental health of women. The pageant has allowed me to meet many women with whom I could share my knowledge about effective coping skills and overall how to achieve good mental health and well-being!
In your opinion, what is the importance of a pageant queen?
In my opinion the importance of a pageant queen is to inspire her audience. Whether it is the young women who admires her or the people of her community, it is a Queen's duty to motivate, educate and inspire her audience.
What kind of opportunities have you gained from your pageant experience?
I have gained so many opportunities from being a part of the Miss West Indian Canadian Pageant such as doing interviews for television networks, and different newspapers. I was also given many public speaking opportunities at community events. The door to modelling was also opened up for me and I had the chance to work a couple of runway shows. My most rewarding opportunity was having the chance to make a difference in my community by working with the LOFT Program painting homes for people who have complex mental health challenges.
Describe your memory of your time spent with the other contestants, rehearsals, and pageant:
Wow where to begin! The other beautiful ladies whom I participated in this pageant with each shared a special moment with me throughout our pageant preparation. Whether it was our silly jokes in rehearsals or helping me fix my broken hook before going on stage! I can truly say I met some very kind, supportive and caring souls. My most favourite memory was at the Meet and Greet where I met another contestant…she was so humble and down to earth… and today that girl is my best friend!
Do you have any inspirational quotes or sayings that are sincere to you?
"My mother said I must always be intolerant of ignorance but understanding of illiteracy. That some people, unable to go to school, were more educated and more intelligent than college professors." – Maya Angelou
What advice would you give to future contestants in the Miss West Indian Canadian Pageant?
My advice to all of the 2015 Pageant Contestants is to stay true to who you are throughout the entire experience. Win or lose, you are wonderfully you! To the Queen of 2015, enjoy every moment and take advantage of every opportunity that comes your way…a year goes by very quickly!