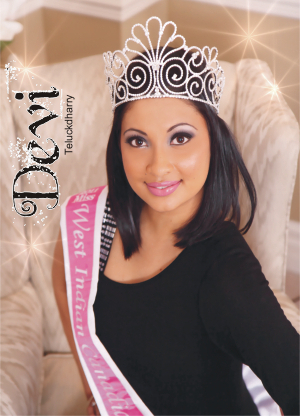 By Shameela Shaheed
The Miss West Indian Canadian 2011, Devi Teluckdharry, accomplished, "One for the family", when she took home the second annual crown on October 31, 2011 at Pearson Convention Center.
Born into a family with two older pageant winning sisters, it's no surprise that this confident 23 year old captured the judge's top scores.  "I don't usually have insecurities.  My sister's are always there to encourage me. They taught me to love myself.  I am, who I am", says Devi.
Devi moved from Guyana 10 years ago, finished her high school studies in Canada, and pursued a number of certificates to reach her current position as a financial service manager at a financial institution.  She has spent 5 years in this position, changing the lives of her clients, and aspires to operate her own branch.
Undoubtedly, Devi's passion for helping others was evident as she listed the many charities and events she has supported; the Salvation Army, run for the cure, and Scott mission, to name a few.  "Giving back to and developing our community" is Devi's overall objective, which became more prominent throughout her interview.
After Winning the Miss West Indian Canadian Pageant last year, what kind of impact did it have on your everyday life?
"It became very busy for me, but it allowed me to get to know other people, get involved with community events, and bringing people together."
Can you tell me about some of your ambitions in life?
"Somewhere, somehow, impact someone's life… even if it's a simple smile.  It's just like my job.  I always wanted to get involved in the financial industry, because I want to help people get back on the right track.  I like to get to know them on a personal level and provide some guidance."
In your opinion, what is the importance of a pageant queen?
"The image they portray and the way they carry themselves, understanding that young people look up to you.  If you respect yourself; you will carry yourself in a respectable manner.  That should inspire them to do that too."
What kind of opportunities have you gained from your pageant experience?
"I built a lot of friendships. I became well recognized in the community. I would receive phone calls for modeling and photo shoot opportunities."
Do you have any inspirational quotes or sayings that are sincere to you?
"Stay true to yourself and just be who you are.  One of my favourite quotes of all time is by Marilyn Monroe, 'I believe that everything happens for a reason. People change so that you can learn to let go, things go wrong so that you appreciate them when they're right, you believe lies so you eventually learn to trust no one but yourself, and sometimes good things fall apart so better things can fall together'."