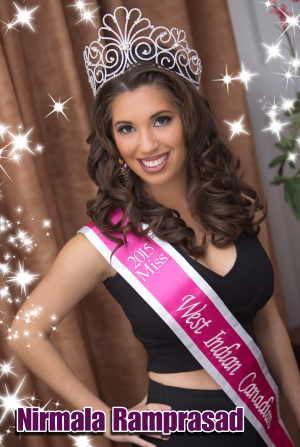 Q&A with the 2015 Miss West Indian Canadian, born and raised in Toronto to parents of Guyanese and Belgian heritage on September 14, 1992. She's the eldest in her family with 1 sister. She has her BA in Political Science from University of Toronto, BeD from York University, is OCT certified, and is the President and co-founder of Green Dupatta Charitable Organization.
After Winning the Miss West Indian Canadian Pageant last year, what kind of impact did it have on your everyday life?
Winning the Miss West Indian Canadian Pageant has definitely given me, not only a new found confidence, but has also humbled me in many ways. This experience has shown me what really goes into taking part in a pageant, and how much work it truly takes; I came out of this year with a new-found respect for every woman who has the courage to get up on that stage and compete!
Can you tell me about some of your ambitions in life? Has winning the pageant helped you in anyway with your ambitions?
I have been very lucky in many aspects of my life, that's why one of my main ambitions is to give back to the less fortunate and to the community that has shaped and supported me throughout my life. Winning the pageant has helped bring attention to the charity I run called, 'Green Dupatta Charitable Organization'. This organization helps communities around the world find the means to sustainable development, and is currently rebuilding a community centre is Leonora, Guyana.
In your opinion, what is the importance of a pageant queen?
I believe that a pageant queen has a very symbolic importance. I have learned that as a queen you become not only a role model, but a beacon for young women; showing them that they can not only achieve their goals, but that they should remember to help others achieve their goals along the way.
What kind of opportunities have you gained from your pageant experience?
The greatest opportunity I've gained from this pageant is that I have met and got to know so many amazing and talented people! I have been introduced to so many kind people looking to support 'Green Dupatta Charitable Organization' and also made some great friends along the way!
Describe your memory of your time spent with the other contestants, rehearsals, and pageant:
When you walk into a room full of nine pageant girls, one can only assume that you won't all be friends, and that not everyone will like you. Well, this assumption is completely wrong! I have met so many amazing people, some of which will be life-long friends. Every one of our rehearsals were filled with laughter, it was an experience I wouldn't trade for anything!
Do you have any inspirational quotes or sayings that are sincere to you?
"We should live life as if our sole task is to become an increasingly better person."
What advice would you give to future contestants in the Miss West Indian Canadian Pageant?
SMILE! You are all talented and wonderful young ladies–bask in the moment, this is your day!