25 April 2014, 16:28.
Comments Off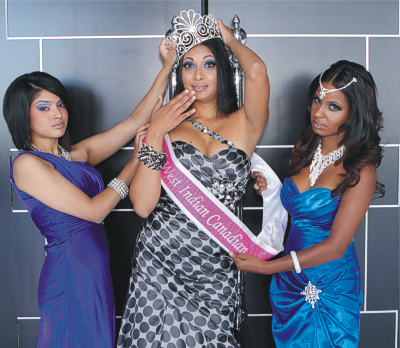 Written by Shameela Shaheed

Pageant history began in 1921, when hotelmen in Atlantic City decided to stage a "glitz pageant" in efforts of enticing tourists to stay in town past labour day. Eastern newspapers promoted it as the "National beauty tournament" to find "the most beautiful bathing beauty in America". Never did they realize that their marketing scheme would change the lives of many women throughout the years to come.

Presently, the objective of pageants has evolved from finding someone with a pretty face and great physique, to finding someone with a great personality, natural beauty, intelligence, ambition, inspiration, confidence, and dignity. To name a few: Oprah Winfrey – the youngest person and first African American woman to anchor the news in Nashville- winning Miss Fire Prevention and Miss Black Tennessee titles in 1971; Diane Sawyer – the highest paid newswoman in television history- winning America's Junior Miss 1963, and using her pageant scholarship money to attend college; Aishwarya Rai -"the most beautiful woman in the world"- winning Miss World 1994;

Speaking from personal experience, I have been in pageants where I was surrounded by people with fake features, fake personalities, and empty words. Pageants where my intelligence was perceived as coached material; where ambiguous contracts would appear left-right-and-center; where I would be pressured by monetary acceptance fees before any pageant details were ever revealed. And yet, I bit my tongue and engaged in it all to follow my ambition to be a "somebody".

In fact, one of the major and unavoidable issues that continue to arise in pageantry is encountering jealousy. Why does this happen? Could it be because contestants feel threatened when their pride is challenged by a third party? Or possibly because they see that their insecurities are another's strength? What about feeling ignored because of lack of attention? It is issues like these that prevent us from seeing the bigger picture and could potentially cause us to miss out on great opportunities.

Julie Rambali, founder of the Miss West Indian Canadian Pageant, strives to change this perspective. She believes in people who want to make a difference and through this pageant, she creates ways to allow people to seize their dreams.

"I created the Miss West Indian Canadian pageant because I believe in beauty, talent, culture, and intelligence all combined on a platform that will inspire the next generation. The pageant is kept fair with three judges. I personally keep an extremely unbiased relationship with all the contestants by treating them the same to the best of my ability. Everything is outlined on the website, including all fees, ensuring nothing is hidden from the public. I will continue the pageant for as long as I can because anything that empowers and motivates the women of our community becomes inevitably powerful for our society." – Julie Rambali

Despite the ugly truth, there are many positive lessons that can be learned. Pageants give us the opportunity to encourage and instil love and confidence in one another, build friendships, develop communication skills, and even open doors for a career. What some pageants promote and what some contestants experience is disappointing, but a pageant with the right objectives and sincere people can produce many life-changing memories.